Take Advantage of Subaru Express Service at McGovern Subaru

Subaru models like yours have a reputation for reliability. After all, the vast majority of new Subaru models sold in the last ten years are still on the road and going strong! Of course, Subaru vehicles don't gain this kind of reputation or longevity by themselves. They need regular maintenance to keep them in tip-top shape so that they can stay on the road for as long as possible.

That's where Subaru Express Service at our service center at McGovern Subaru comes into play! Our team has plenty of experience when it comes to keeping Subaru vehicles fighting fit, and we know all the little details and nuances that make Subaru models what they are. So, if you're looking for precise, high-quality Subaru service, you're in the right spot.
Check Subaru Maintenance off Your To-Do List While You're in Town
Providing professional, efficient Subaru service is our specialty here at our Subaru service center. If your car or SUV needs a few quick services to get it up and running at full strength, there's no need to make a whole day of it.

We understand how important your time is, and we're dedicated to tackling your Subaru vehicle's service needs in a timely fashion here at our express service center so that you can get back to your day.

Of course, should you decide to spend some time in the area while our team of Subaru experts gets to work on your car, you'll find no shortage of local spots to grab a bite to eat or do some shopping.
Complex Repairs Are a Cinch for Our Team
Sometimes your car's service needs can't be addressed with a few breezy bits of maintenance, but don't worry. Our service center is equipped to handle the more demanding repairs as well. If your car requires major repairs, you can always count on us to lend a hand. Between our state-of-the-art service center, our highly-trained Subaru experts, and our inventory of genuine Subaru parts, we're ready for just about anything, and we're eager to help.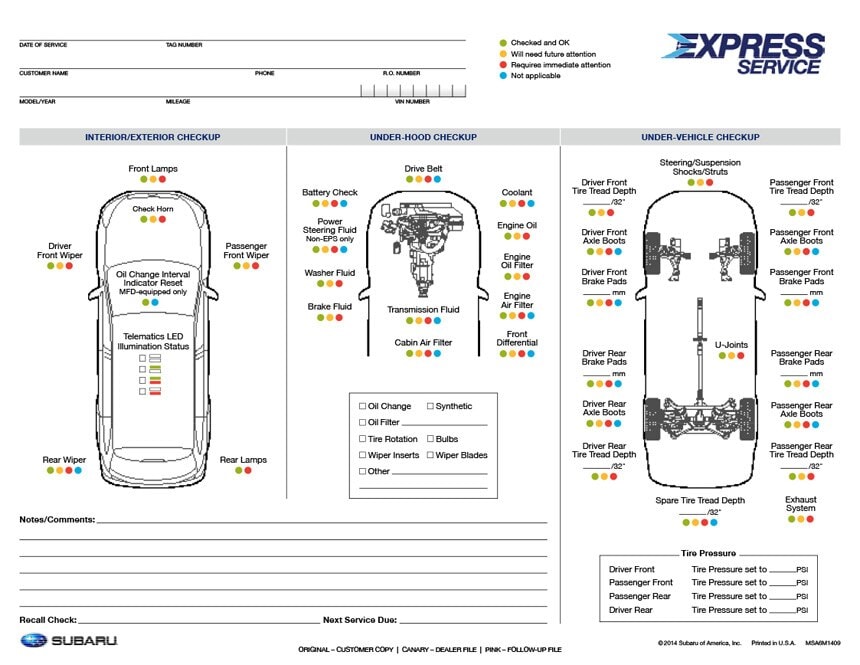 Contact Us Today
If you have any questions about our Subaru Express Service or our service center in general, please don't hesitate to connect with us. We look forward to assisting you and providing exceptional service, so we hope you'll reach out to us soon!
Contact a Service Advisor
* Indicates a required field